Jazz in Jamaica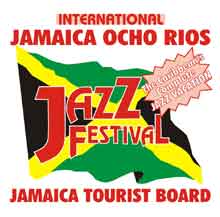 In the English speaking Caribbean, Jamaica has always been the main supplier of top jazz talent for the region and also for the international jazz scene. It is natural then for the Island to have started the Jazz Festival Train with an all-Jamaican cast in 1991 with the theme, "The Greatest Names in Jamaican Jazz" which featured the likes of Ernie Ranglin, Maurice Gordon Trio, Peter Hudson Group, The Jazz Mobile, Hedley Jone's Presidents Sextet, Seymour "Foggy" Mullings, Cedric Brooks, Marjorie Whylie, Myrna Hague, Karen Smith, Carl "Cannonball" Bryan, and Ruben Alexander, and singer/songwriter Ernie Smith.
The Jamaica Ocho Rios Jazz Festival is very boastful of its local jazz musicians' involvement and has featured over 100 Jamaican musicians every year showcasing groups like The Jamaica Big Band, The Monty Alexander Trio, Jon Williams Electric Band, Dean Fraser, The Dizzy Reece Quintet, Roy "Bubbles" Burrowes Sextet, Richard White, Desi Jones, and The Billy Cooke Quartet.
Jamaica's young musicians, neglected by all other musical promotions, find their own niche in the annually highlighted Youth Jazz Days out of which has developed the current Sonny Bradshaw School Band Competition. This has given public exposure to The Alpha Boys Big Band, The Alphasonics, The Berber Morrison High School Band, The Exed Community College Sextet, and the St. Catherine High School Band, among others, and has allowed them the opportunity to show off their developing skills.