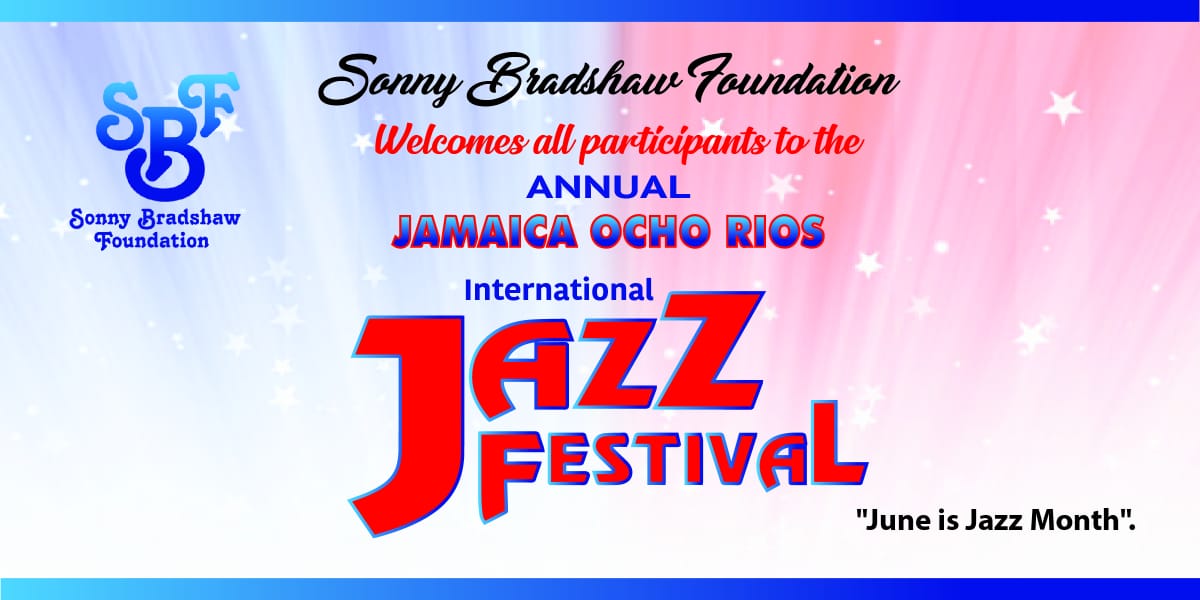 The Annual Jamaica International OchoRios jazz Festival has developed and established itself as a recognized authority for promoting and showcasing distinguished International as well as Jamaican and Caribbean Jazz musicians/artists. Its format is one of a kind and is dedicated to the promotion and preservation of "Classical Black Music and America's First Art Form".
History of the Festival
The Jamaica Ocho Rios Jazz Festival started in 1991 as an experimental one-day event called at the time The Ocho Rios "Mini" Jazz Festival. It was produced and directed by Musician/Journalist Sonny Bradshaw in an effort to redefine the Jamaican musical landscape and enhance the Tourism product by providing an entertainment atmosphere that whole families could share and enjoy. With that in mind, "Father's Day" was chosen for the event, Carib Inn Beach (Ocho Rios) the venue and the "Greatest Names in Jamaican Jazz" the byline.

In three years the festival grew from one to eight days and became the Caribbean's complete jazz vacation, featuring the greatest names in Jamaican Jazz as well as the very best of international fare. It boasts a Youth Programme, daily free concerts, a large-scale Photo Exhibition and events large and small going on simultaneously all over the Island--Kingston, Montego Bay, Negril, Runaway Bay--Ocho Rios. It has established a "Jazz Hall of Fame" recognising those Jamaican and Caribbean Musicians who have distinguished themselves internationally while contributing to the development of the art form.
Meet the Directors
Founding Director

Sonny Bradshaw, O.D.

Sonny Bradshaw was a jazz pioneer, bandleader, producer, promoter, composer, arranger, recording artist, journalist, teacher and creator of various radio and television commercials and programmes. Past president of the Jamaica Federation of Musicians for twenty-five years, member of the board of the Jamaica School of Music and the Jamaica Cultural Development Commission, he was also the founder and director of the Jamaica Ocho Rios Jazz Festival.

Tribute to Sonny Bradshaw

Myrna Hague

Singer, actress, journalist, vocalist with the Jamaica Big Band and the Jazzmobile, former member of the board of the Jamaica Cultural Development Commission, past tutor of the Jamaica School of Music, winner of the Caribbean Broadcasting Union Song Festival 1990. Many times Jamaica Music Industry Award winner (Jazz), Jamaica Federation of Musicians Award winner, and Special Merit Award, 1993.

Myrna has made numerous television and radio appearances as well as international tours including the Birmingham International Jazz Festival. She has also appeared with Andy Hamilton, Kenny Baker, Ernie Ranglin, Monty Alexander, Branford Marsalis and Dizzy Reece to name a few. Myrna is married to Sonny and is the Assistant Director of the Ocho Rios Jazz Festival.
Distinguished performers over the years.
Chares Earland

Jerry Gonzalez

Roy Hargrove

Kevin Mahoghany

Frank Morgan

Othello Molyneaux

Arturo Sandoval

Dr. Lonnie Smith

Etta Jones

Milt Jackson

Jimmy McGriff

T. S. Monk

T. S. Monk

Clark Terry

Randy Weston

Carmen Lundy

Etienne Charles

James Moody
© 2022 Jamaica Ocho Rios Jazz Festival